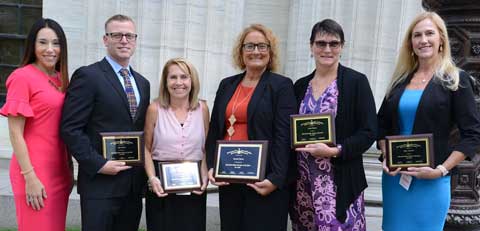 Teacher of the Year takes her work beyond the classroom
NYSUT lauds Rachel Murat — a celebrated longtime Maine-Endwell social studies teacher, high school mentor and community activist — on being named the 2020 New York State Teacher of the Year.
(Above: NYSUT Executive VP Jolene DiBrango; United Teachers of Northport's John Braun; Watervliet TA's Jeanne Lance; Maine-Endwell TA's Rachel Murat; Schenectady FT's Laura Macey; and Grand Island TA's Mary Howard.)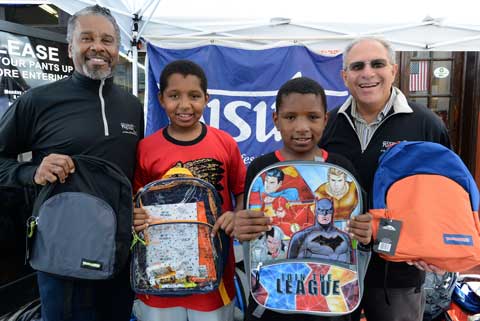 Union delivers more than 1,000 backpacks to needy
In a joint effort, NYSUT and listeners of Northeast public radio station WAMC purchased nearly 1,100 backpacks filled with school supplies and personal care kits, and distributed them to kids in an 18-county area.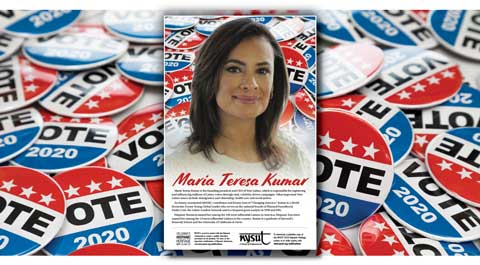 Get a free poster for Hispanic Heritage Month
You can download or order free copies of NYSUT's 2019 Hispanic Heritage Month poster honoring Maria Teresa Kuma, CEO of Voto Latino. Hispanic Heritage month is Sept. 15 through Oct. 15. Teach about it with AFT Share My Lesson plans and classroom materials.
More news
As the Regents consider whether to change graduation requirements, NYSUT will conduct a telephone survey of K-12 members during the next few weeks. If you get a call, please take the brief survey; your thoughts will help guide our advocacy.
NextGen NYSUT Pro-Tips Video Series: Advice for New Educators — Here's a new video offering words of advice and encouragement to new educators.
Wappingers local union addresses the opioid epidemic in its community.
We share pictures from last weekend's labor parades in Albany and NYC to highlight the solidarity of our movement.
In wake of Hurricane Dorian, please donate to the NYSUT Disaster Relief Fund and encourage members to apply for grants.
Form your Making Strides teams for October walks to raise money for breast cancer research. Don't forget to register with ACS as part of NYSUT's Flagship sponsorship.
Check us out on Facebook and Twitter.